Mini Investment (1996-ongoing)

re: action
In November 1996, I became an individual investor by opening an account at four of the largest securities firms in Japan. I have been investing my personal funds through the purchase of minimum blocks of shares at each company. I have publicized records of the fluctuating stocks I own in exhibitions. As an extremely poor investor collecting a very small share of expensive stock, my ownership of these 'mini stocks' or 'petit stocks' purchased at 10% of the normal price per stock does not give me shareholder's rights. My incremental purchases over the years will hopefully make me an official stockholder once I have fully purchased each stock at 100% of their actual cost.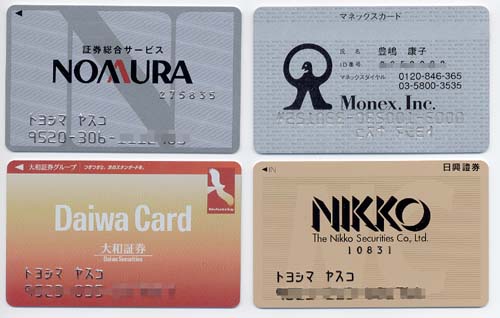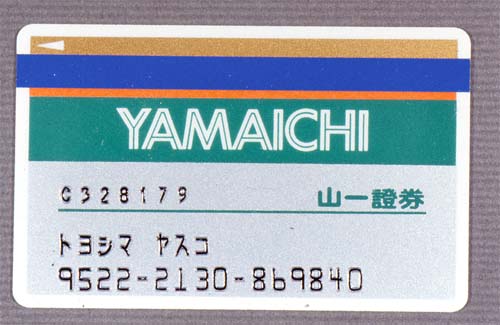 re: my declaration, way to open to the public
I have declared that these stocks will be frozen throughout my lifetime. I will not buy or sell to gain a profit. I will not resell. The purpose of this project is not speculation but to keep these stocks for the rest of my life. As an ongoing project, I periodically include records of these stocks in my exhibitions to show its progression. The statements of account issued by the companies and reported on the online financial portfolios of my private investments are made open to the public through these exhibitions.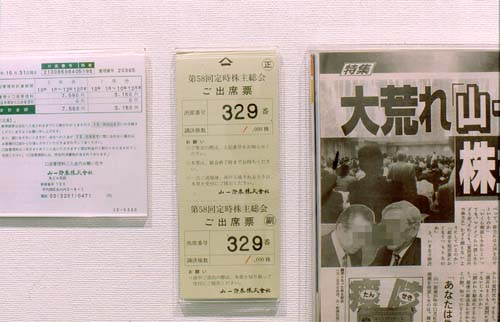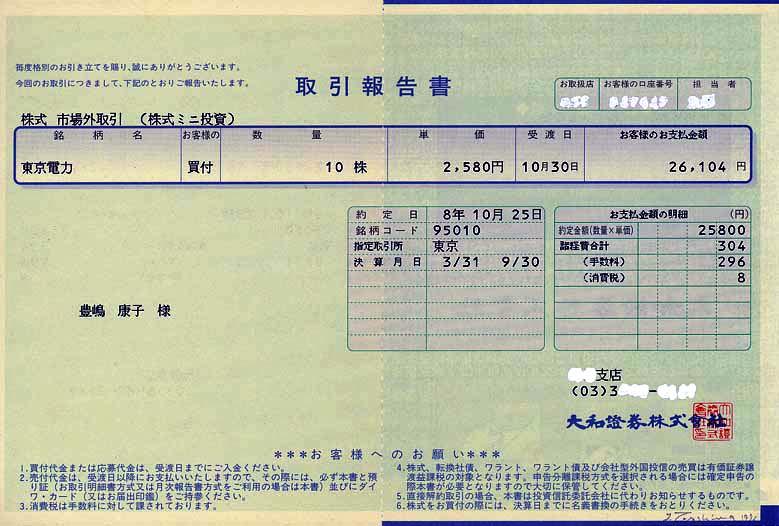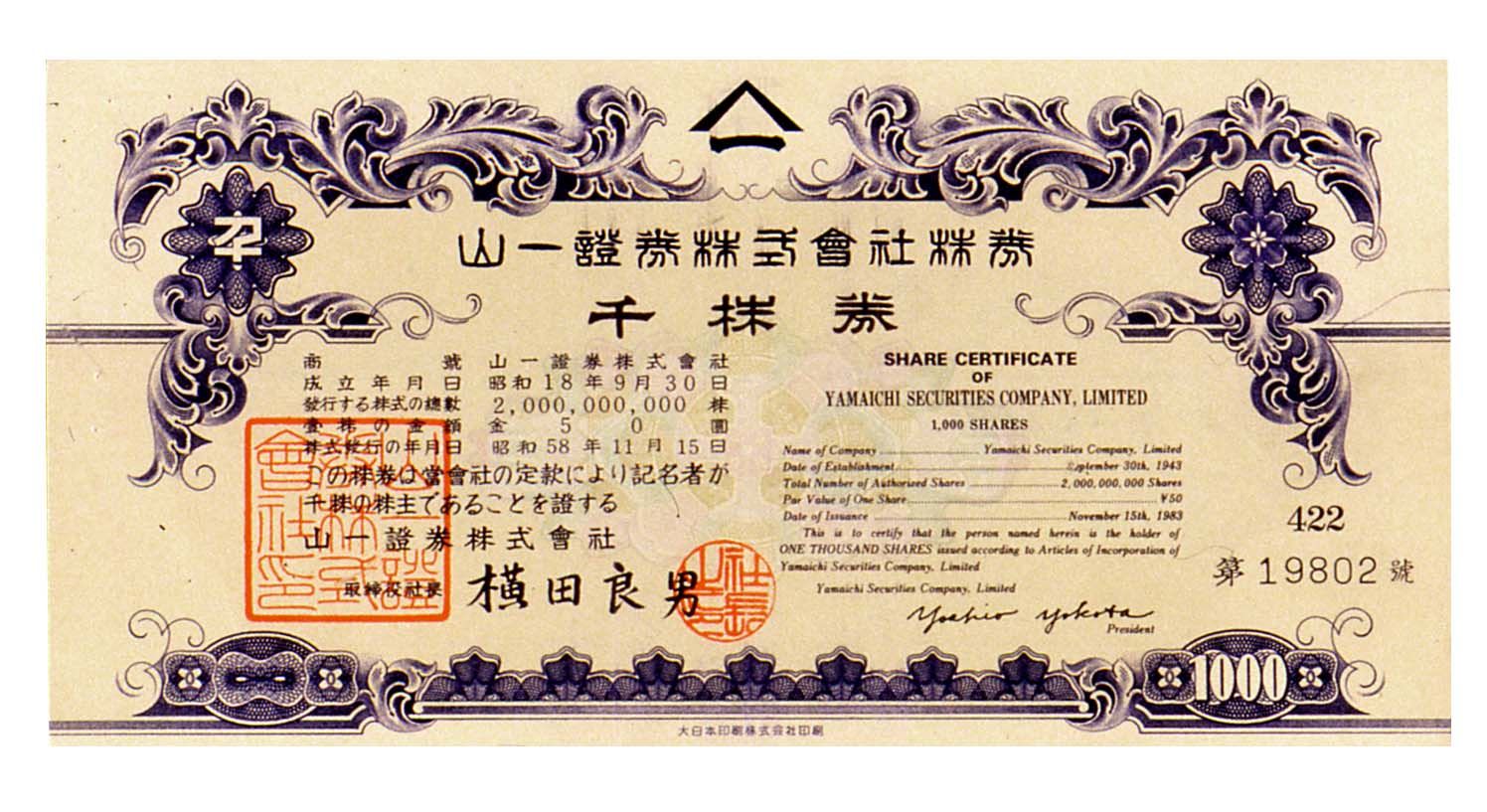 re:meaning
I treat the investment in stocks as a creative practice, as it allows me to be included in, as well as be affected by, global economies. The publicized fluctuation of the stocks reflects these specific changes in my life. By participating in this system, I am logically part of these companies. Likewise, these companies' activities, products, services, and ethics could be viewed as belonging to me, to be connected to me. These stocks are like the medium of my expression, my artistic intent. As an artist deciding to participate in the stock market, I become part of how the stock prices fluctuate. It could be said that the stock market is an 'art' collective by intent. To use the stock market is a way of gauging the individual's limitations and degree of influence on society. The individual in the collective becomes defined, and by default could be positioned against the corporate collective. The individual and the collective are socially interdependent both harmoniously and discordantly. This system of correlation is what I observe and treat as an art concept.
re: what made me to start, how did this idea came up in my mind.
This concept was based on my study of a famous Japanese civil lawsuit, named the 'one-stock movement' in the Minamata disease case that triggered a consumer movement in 1970. A local group of citizens suffering from effects of mercury poisoning decided to gain access to control of the company that was poisoning them. They each bought a portion of the company's stock, seizing enough shareholder's control to influence the company's decisions. Through their example, I see a method of 'expression' in society—a way of 'playing,' 'expressing,' and 'living' in society beyond the institutional art format.
My securities firms accounts:
Daiwa Securities : since 24 Oct. 1996
Nomura Securities : since 7 Nov. 1996
Nikko Cordial Securities : since Nov.1996
MONEX : since 12 Jul. 2000
KABU.com : since 2005

↓Details of the brands (*under construction)
9501Tokyo Electric Power : ¥2,580 / 10 shres , 25 Oct.1996
5411NKK Corp. : ¥285 / 100 shares , 11th Nov,1996
9694Hitachi Software Engineering : ¥2,560 / 10 shares,8 Nov.1996
1805Asics Corp.: ¥230 / 1 00 shares , 7 Mar.1997
Nice Corporation: ¥ 212 / 100 shares, 3 Oct,1997
Oriental Construction: ¥1,190 / 10 shares,12 Mar.1997
KANEBO,LTD ¥203 / 100 shares , 10 Mar.1997
Mitsui High-tec: ¥2,560 / 10 shares , 10 Mar.1997
1805Tobishima Corp. ¥210 / 100 shares , 17 Mar.1997
3861Oji Paper: ¥205 / 8 shares , 13 Mar.1997
6779Nihon Dempa Kogyo: ¥1,680 / 10 shares,13 Mar.1997
7007Sasebo Heavy Ind.: ¥208 / 100 shares , 17 Mar.1997
1503Sumitomo Coal Mining: ¥50 / 100 shares , 5 Sep.2002
9984SOFTBANK CORP.: ¥1,125 / 10 shares , 9 Sep.2002
Nippon MIC: ¥ 46 / 100 shares , 9 Sep.2002
8839Nichimo Corp.: ¥38 / 100 shares , 10 Sep.2002
1503Sumitomo Metal Ind.: ¥49 / 100 shares , 10 Sep.2002
3521ECONACH CO.,LTD.: ¥45 / 100 shares , 11 Sep,.2002
Taiheiyo Kouhatsu: ¥49 / 100 shares , 11 Sep.2002
2281Prima Meat Packers: ¥52 / 100 shares , 11 Sep.2002
9152Kansai Kisen: ¥29 / 1 00 shares , 12 Sep.2002
Nissho Iwai: ¥68 / 1 00 shares , 13 Sep.2002
8014Chori Co.: ¥48 / 100 shares , 13 Sep.2002
8238Isetan Co.: ¥1,103 / 10 shares , 14 Sep.2002
1844Ohmori Co.,Ltd.: ¥35 / 1 00 shares , 14 Sep.2002
5103Showa Rubber : ¥22 / 100 shares , 17 Sep.2002
Hazama Corp.: ¥ 21 / 100 shares , 17 Sep.2002
9123Taiheiyo Kaiun: ¥ 38 / 100 shares , 18 Sep.2002
9132Daiichi Chuo Kisen: ¥37 / 100 shares , 18 Sep.2002
1861Kumagai Gumi: ¥20 / 100 shares , 19 Sep.2002
5196Kinugawa Rubber: ¥65 / 100 shares , 20 Sep.2002
5391A&A Material Corp.: ¥42 / 10 shares , 20 Sep.2002
9640Saison Information Systems: ¥1,300 / 10 shares ,24 Sep.2002
8253Credit Saison :¥ 2,455 / 10 shares ,27 Sep.2002

---
Copyright © 2011 TOYOSHIMA Yasuko. All rights reserved.
無断転載を禁止します。