Fix (2009-)

Notions of permanence or fixity are illusory. Making and installing works of art require making choices—the ways of positioning or affixing elements or materializing a concept in place, within a designated space. Fix is a series in which I take some models that refer to spaces and how materials relate to these spaces.

For Fix/Numbers, I marked wooden cards in a sequence of numbers 0-9 then strung them up through drilled holes. They are loosely tied. While the cards are in sequential order, the variabilities of their order become dependent on how they 'fall into place' or how they are hung. This illustrates the permutational instability within stable systems or the potential of a single fixed order to generate a realm of multiple fixities.


 



 




'Fix'(name):
I made wooden cards on which my name was written and divided them by letters, by character, and drilled them to making holes for threading. Because of being fastened (or tied up) loosely, in case I put it on the table or wall, the positioning of the cards is not stable. We lost the order of the cards and we could not recognize that my name was written on them. But the instability was fixed by the fastening. I made a multiple realm of fixations.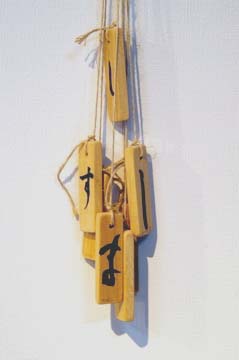 ---
Copyright © 2011 TOYOSHIMA Yasuko. All rights reserved.
無断転載を禁止します。